Digital WideField & Digital 1.0x Volk Lens Set
Digital WideField & Digital 1.0x Volk Lens Set
£759.00
Reference: OMP1794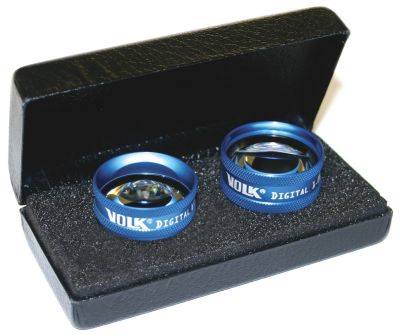 ---
WideField and Digital 1 Volk Lenses presented in a case.
Digital Wide Field Specification:
This is the latest and most technologically advanced of Volk's lenses. The Digital Wide Field Lens combines exceptional wide field views and high magnification.
The enhanced double aspheric design and multi-layer coating provide high resolution stereo views of the retina with minimal reflections. These unique features make it ideal for general diagnosis and documentation of slit lamp images.
Digital 1.0x Imaging Lens Specification:
The Digital 1.0x Imaging Lens is optimized for the visible spectrum and was designed to reduce glare and reflections during general diagnosis and slit lamp imaging.
This lens provides a high-resolution view of the posterior pole and a sharper image across the diameter of the lens. The Digital 1.0 X Imaging Lens is also ideal for slit lamp photography.
For best results during slit lamp photography, it is recommended that you use this lens with the Volk Steady Mount.
Includes:
10 year Volk warranty
Free Double Box worth £39
Free initialling service - write the initials required in the notes section of your order
4-6 week lead time for delivery. Any coloured rings are also available for the Widefield please choose from:
Black
Purple
Blue
Silver
Red
Gold
Green