SuperField and Super 66 Volk Lens Set
SuperField and Super 66 Volk Lens Set
£679.00
Reference: OMP1793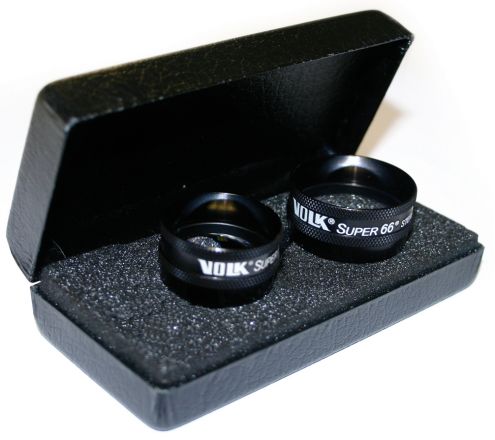 ---
Pair of Volk Lenses presented in a case.
Super 66 Specification:
The Super 66 Stereo Fundus Lens is specifically designed for high resolution/high magnification viewing of the central retina.
Its enhanced 3-D stereoscopic design enables discernment of subtle macular and optic disc detail, making it ideal for detecting changes related to choroidal neovascular membranes, macular edema, serous detachments and other macular abnormalities.
It is excellent for evaluating neovascularization of the disc and optic nerve head contour in glaucomatous patients. Volk's exclusive Double Aspheric design provides an expansive 96 degree dynamic field of view.
SuperField Specification:
Volk's SuperField has become the standard of slit lamp fundus diagnosis for today's discriminating practitioner.
Its ideal .76x magnification and wide field of view make it perfect as the primary high resolution slit lamp fundus diagnosis lens.
The SuperField has been specifically designed for increased working distance from the cornea (7mm), making it more practical than competitive pan fundus lenses. Its small 30.2mm diameter housing also proves highly useful for dynamic fundoscopy, allowing the lens to be more easily manipulated in the orbital area of the eye, increasing its dynamic field of view to 116
Includes:
10 year Volk warranty
Free Double Box worth £40
Free initialling service - type initials in notes section of your order
3 - 4 week lead time for delivery. Any coloured rings are also available, please choose from:
Black
Purple
Blue
Silver
Red
Gold
Green