Volk Surgical Gonio Lens
Volk Surgical Gonio Lens
£579.00
Reference: OMP9102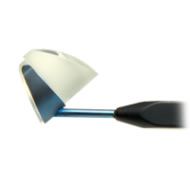 ---
Primary Application:
Surgical Gonio Procedures and Postoperative Gonioscopy
The Surgical Gonio Lens can be sterilized by either steam autoclave or Ethylene Oxide (ETO). The materials of construction are highly resistant to the rigors of steam sterilization to ensure a long lens life without lens or image degradation. A viscous coupling fluid is required in the contact surface of the lens.
Features & Benefits:
Applicable for MIGS procedures.
Lens position can be adjusted relative to the handle: for left hand, right hand or center position.
Sterilizable by either steam autoclave or Ethylene Oxide.
Small profile - useful for both adult and pediatric postoperative gonioscopy.
2/3 week lead time